Interview Thank-You Notes — Smart Strategy
Always, ALWAYS (if you're serious about your career) send a thank-you note after interviewing. Write and send the note while the details of the meeting are fresh in your eager little mind. Promptly (within 2 business days) write and send an after-interview thank-you note. I know that was redundant, but I'm emphasizing the importance of this follow-up letter and its many happy returns you'll enjoy.
The purpose of this letter is to:
• Establish yourself as a high-performer and an asset to anyone you represent.
• Show appreciation for the employer's interest in you.
• Reiterate your interest in the position and in the organization.
• Review or remind the employer about your qualifications for the position. If you thought of something you forgot to mention in the interview, mention it in your follow-up / thank-you letter.
• Demonstrate that you have good manners and know when and how to write a thank-you letter. This also shows that you will reflect a positive image to clients once hired by the company.
• Follow up with any information the employer may have asked you to provide after the interview.
Should You Follow-up With an Email?
If you send a handwritten thank-you note (to each interviewer, separately), there is no need to follow-up in an e-mail as well. If you don't handwrite a thank-you note, then yes, by all means follow up with an email within a day or two of your interview.
What to Do If You Don't Hear From the Employer
•  Before your interview ended, your interviewer should have informed you of the organization's follow-up procedures — from whom, by what means, and when you would hear again from the organization. If the interviewer did not tell you, and you did not ask, use your follow-up / thank-you letter to ask.
•  If more than a week has passed beyond the date when you were told you would hear something from the employer, call or email to politely inquire about the status of the organization's decision-making process. Someone (or something) or an unexpected circumstance may be holding up the process.
•  A polite inquiry shows that you are still interested in the organization and this may prompt the employer to get on schedule with a response. Or, if you were not the first choice and someone else has declined the position, this puts you back in the running.
In your phone inquiry, mention the following:
Name of the person who interviewed you,
Time and place of the interview,
Position for which you are applying
(if known), and
Ask the status of your application.
In your email, write something like:
Dear Frank,

I hope you're doing well this week. I wanted to follow up regarding the Project Management role we spoke about; do let me know if there's any further information I can provide to assist you.
I enjoyed meeting you and the team last week, and I'm very interested

in the opportunity.

Thanks,

Jack
google_ad_client = "pub-2731481137957140";
/* 468x60, created 6/2/08 */
google_ad_slot = "3743616874";
google_ad_width = 468;
google_ad_height = 60;
Samples and Examples to Help you Construct a Post-Interview Thank-You Note
Thank-you for initial interview:
45 Ridge Road
Phoenix, AZ 25553
(555) 555-5555
me@myaddress.com
May 5, 2004
Ms. Anya Bolinger
Human Resources Manager
Chloe's Fashion
55 Pension Ave.
Tucson, AZ 33664
Dear Ms. Bolinger:
I enjoyed interviewing with you during your recruiting
visit to the Phoenix Career Fair on October 25. The management trainee program you outlined sounds both challenging and rewarding
and I look forward to your decision concerning an on-site
visit.
As mentioned during the interview, I will be graduating in
December with a Bachelor's degree in Fashion Merchandising.
Through my education and experience, I've honed many
skills, as well as gained an understanding of retailing concepts
and dealing with the general public. I have worked seven years
in the retail industry in various positions and levels of responsibility ranging from Sales Clerk to Assistant Department Manager. I think my education and work experience would complement Fashion's management trainee program.
I have enclosed a copy of my college transcript and a list
of references as per your request.
Thank you again for the opportunity to interview with Chloe's Fashion. The interview solidified my interest in becoming a part of your management team. I can be reached at (555) 555-5555 or by email at me@myaddress.com, should you need additional information.
Sincerely,
Harry Potter
Enclosures
Thank you for the on-site interview:
101 Classic Corner
Brookside, IN
(555) 555-5555
me@myaddress.com

March 31, 2009

Ms. Gardenia Krokus
Personnel Manager
Bytes R Us
44 Electronics Ave
Cincinnati, OH 36267

Dear Ms. Krokus:

Thank you for the opportunity to visit with you and observe
your company's impressive facilities last Wednesday.
Both the interview and the tour made for an exciting and complete day.

I was particularly impressed with your warehousing procedures.
Mr. Avery was so thorough in explaining your process to
me, and I will be corresponding directly with him to express
my appreciation. Incidentally, the process you use is quite
similar to one I have been researching through an independent
study this term. Perhaps I can share my final report with
you and Mr. Allen.

The expense report you requested is enclosed.

Again, thank you for your hospitality during my visit and
for all your efforts to arrange a smooth experience. Having seen your
operation, I am all the more enthused about the career opportunity
that Bytes R Us offers. I look forward to your decision.

Sincerely,

Mel Hillside

Enclosure
Follow-up After Not Getting the Job (a rare but useful letter to add to your repertoire):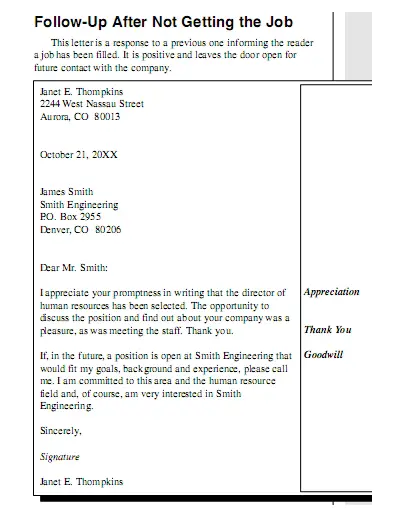 google_ad_client = "pub-2731481137957140";
/* 468x60, created 6/2/08 */
google_ad_slot = "3743616874";
google_ad_width = 468;
google_ad_height = 60;
Related articles: