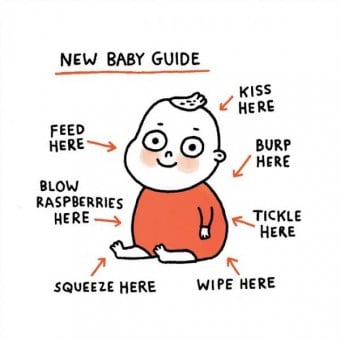 "A baby is God's opinion that life should go on." – Carl Sandburg
It's the season for welcoming new people into the world — your friends and colleagues are having babies. Whether you're ready or not, it is now your responsibility to be an adult and to congratulate them for creating new life.
Send a text or write a note, but somehow express congratulations to the happy new parents welcoming the arrival of their little one.
Wonder what to write in a card of congratulations on expecting a new baby or child? Here are some funny and some heartfelt messages of congratulations on the birth of a new baby:
Best Wishes For Your New Baby [Funny]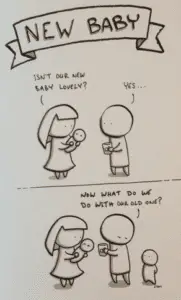 It's a girl! Good luck, Daddy! Be sure to load your gun with bullets!
Congrats on the new member of your household! See you in 18 years.
Congratulations, and welcome to your new Overlord.
OMFG! Shit just got real. Congratulations!
Love. Joy. Baby puke. So excited for you and all that's to come.
If you are worried about not having enough space when baby comes, just get rid of your bed; you won't be using it for a while anyway.
Congrats on being nine months sober the baby.
Congrats on the fun size mini-human.
So glad you had a baby (and I didn't).
Congratulations on your new baby! Sympathies are with your vagina at this time.
"New Baby Best Wishes" Notes to Write in Cards
Sincere Wishes for Your New Baby
Babies are a great way to start people. Love him/her up, for the good of the world!
All the best to your little miracle.
All the books and articles in the world can't prepare you for the surprises that your child will bring. Enjoy the adventure!
A baby fills a space in your heart that you never knew was empty.
We're excited to welcome your new child into the fold!
Wishing you all the joy that the arrival of your new babe brings to the world. May you never stop experiencing happiness and joy.
Congrats on the new angel!
Sending you all endless wishes of health and happiness!
Congrats on your new addition to the family!
Welcome, little one!
Wishing you all the joy and happiness that a new life brings to the world. Much love and best wishes to you and your family!
Congratulations on the arrival of your new baby! Let the celebrations begin!
A beautiful new life! Love before first sight! Our love and best wishes to you and your newborn baby.
Such tiny feet, yet they leave the biggest footprints in our hearts.
Welcome, little one! The world greets you with love and possibilities. May your journey through life be optimistic and joyful.
A brand new miracle to call your own. Congratulations!
A cradle full of best wishes for your newborn. Congratulations!
Allow me to say congratulations on the arrival of your new baby ___!
Congratulations on your beautiful little bundle of joy!
Heartfelt congratulations to the newly Mom and Dad! New responsibilities, new job titles, newfound love.
Not all treasure is silver and gold, — congratulations on your personal new treasure and precious darling!
A baby touches your heart and fills your life with overwhelming love. Wishing you all the joys of discovery a baby brings to your world.
Parenthood is one of the best journeys in life. Buckle up and enjoy the ride!
Get ready for toy dinosaurs in all shapes and sizes, for balls, trucks, and bikes, and all sorts of surprises. Congratulations on your little man.
A precious little boy is on the way. What an exciting time for your family!
A dad so handsome, a mom so pretty — no wonder your newborn is such a sweetie. Congratulations!
Your family has grown by two feet! Enjoy the expansion.
May your baby be welcomed to the world with open arms, an even playing field, and unlimited opportunity. May they be a good sleeper, a frequent smiler, and potty train without bribery. May they be blessed with the ability to entertain themselves, and be naturally tidy. May your child always feel safe, loved, and heard. As they grow, may they turn to you, when they need advice, or a shoulder to lean on, and may they always be willing to explain modern technology. When they become an adult, may they always feel free to roam the world, but always remember that their true home is wherever you are.
Cute & Funny Baby Shower Messages For New Moms
Some baby cards are pink, some baby cards are blue, they all make me want to vomit, so here's a picture of a banana (congratulations!)
When you are choosing a name for your baby, don't forget the names of the important people in your life — like moi!
Congratulations on growing a baby in your lady parts.
You have a parasite attached to your body for 9 months. It makes you feel horrible, steals your nutrients, distends your belly, kicks you in the stomach, and it will eventually tear through your sensitive parts. Congratulations!
Exciting news! I am sure your baby will be really cute, at least as long as he/she takes after his/her mother.
Don't worry about the difficulty of raising a child; it is just as easy as running a marathon, doing your taxes, and wrestling an octopus at the same time, every day.
People who say they sleep like a baby usually don't have one.
It's hard being new parents. But look on the bright side — no one will ever question your drinking again.
Sit down. I think it's time to have 'the talk.' Babies don't really come from storks.
If you are worried about having enough space after the baby comes, you can get rid of your bed. You won't be using it much for awhile, anyway.
Congratulations on getting a 9-month parasite that will turn into an 18-year-plus parasite.
Hello, baby! Goodbye, sleep!
So glad you're having a baby and I'm not.
Congratulations! You're going to be the best baby oven ever.
Bear-y excited to meet your new cub.
"With all the technology, why am I still delivering the baby?"
Congratulations on being old enough to have a baby on purpose.
Congrats on the new baby! So I guess this is it for hanging out; so long and nice knowin' ya!
Welcome to your tiny overlord! 😉
Warm Thoughts For the New Baby, Boy or Girl:
To Welcome Your New Baby Boy: Start every day with a kiss and a hug. Make sure he's feeling all cozy and snug. Smile at him, tickle and cuddle and coo, and soon he'll be smiling and laughing with you.
May her days be bright with wonder, may her nights be warm with love, may her life be filled with happiness and blessings from above.
Wishes For Baby: I hope that you find beauty in every day. I hope you aren't afraid to be yourself. I hope you love fearlessly. I hope you get to try, to explore, to experience. I hope you laugh with abandon. I hope you never forget that you are loved. I hope ignore the naysayers. I hope you become what your heart says you are. I hope you respect the Earth (it's on loan). I hope you grow, knowing you are always loved.
Congratulations on the TWINS
Genes so nice, they made them twice.
Congratulatory Words to the Parents of an Adopted Child
This precious little boy was meant for you, and you for him. Warmest congratulations to your beautiful family.
Welcome to the new addition to your beautiful family!
She simply couldn't have picked a better family. Congratulations!
Welcome to your new little person. (Excellent choice!)
We are celebrating with you as you welcome this little one into your lives and hearts. Here's to all the wonder that's coming your way. Congratulations!
I love seeing your dream come true like this. She was definitely worth the wait!
Congratulations from The (Soon-to-be) Grandparents
We worried about you, took care of you, and bandaged you up when you did something silly. Looking forward to you having your own frustrating bundle of joy soon.
Difficult Circumstances or Birth Complications
When the excitement of a new arrival is overshadowed by health issues for the mother or baby, or other difficult circumstances, it's still appropriate to respond with warm, joyful congratulations. Skip the lighthearted sweetness of traditional baby sentiments, and choose words that provide your straightforward warmth, caring and optimism.
There is no need to mention the specifics of the difficulty, rather give support and encouragement to the new parents and family members.
So thankful your baby is here. Bless you all, and much love.
Your precious one is a blessing to us all.
Sending our congratulations on the birth of your baby girl and keeping the whole family in our thoughts and prayers as she undergoes surgery.
Your precious boy is so beautiful. And he's going to bless you in ways none of us can even imagine.
A warm, happy welcome to Baby and lots of love and healing thoughts to Mom!
Congratulations! Wish you could spend these early weeks cuddling Baby [Drew] at home, but there is plenty of time for that, and it's good to know he's getting the loving care he needs at the hospital.
Welcome to the new bright spot of so many lives!
Sending you happy and hopeful thoughts for your lives together.
Babies bring hope and happiness to our whole world. I'm thinking the best thoughts for you all.
Related
Thank-You Note Examples for a Wedding Gift