No matter how much you've looked forward to the day of leaving your place of employment, when the day comes, it might be a surreal experience. Make your transition easier for yourself and others by letting people know your plans.
Whether or not you've announced your departure, your colleagues will want to know when you're leaving so they can arrange a party or mini send-off for you. Give them the courtesy to plan and the enjoyment of your appreciation, in a goodbye letter.
Do I Need to Write a Farewell or Retirement Letter to my Colleagues?
In a word, yes. While writing a retirement letter is still the status quo, the process of writing a letter that conveys exactly what you want to say in the proper format, can be time-consuming and stressful. To make the process easier, consult the sample letter below to guide your letter-writing.
What Do I Say?
A gracious and simple farewell is the point of this letter. You may choose to add a line or two about your post-retirement plans, but if you work in a formal office environment and don't share such details normally with your colleagues, you don't need to overshare.
If you are retiring and you know who will be your replacement (everyone is replaceable — how depressing and freeing), consider providing the name and contact info of that person.
Newspaper Retirement Notice Example
After 34 Wonderful & Rewarding Years at Henry Motors it is Time to Park the Car!
I would like to thank Don Henry (Dealer Principal) and Frank and Bob Henry (both retired) who put their faith and trust in me those many years ago.
You gave me a career second to none!
Thank you to my fellow workers. We have had so much fun over the years; the memories will always bring a smile to my face. We supported each other through good times and especially in tough times when we had to deal with events and losses out of our control. I am truly grateful.
To my Customers who number in the thousands: thank you for your support over all these years. Many of you I have come to consider as my friends. Not everybody gets to say that. You are what has made me successful and I have always realized and never forgot that!
I am sure I will continue to run into many of you as I start my new chapter in life, as it were.
Thank you again,
Sam Guerra
How Many Notices to Write?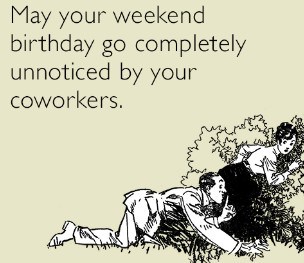 It is up to you. Depending on your company culture, you may feel better submitting personalized letters or a quick email to each person in the office; in general, business etiquette suggests it is appropriate to personally address, sign and hand-deliver a letter to one's direct supervisor, and (if time and energy allow), either write or email one's close coworkers or team members. The decision is yours.
Awkward Retirement Situations
Downsizing, inopportune lay-offs, or a volatile work culture can create less than ideal circumstances surrounding retirement timing. 
Instead of committing to paper for posterity all the anger and vitriol you may feel for the offending company, a much better path is to leave with a clean conscience, the perception of goodwill (at least on paper), and no burned bridges. You never know which contacts you might encounter after retirement, and it is best to extinguish any potential sparks of ill-will before they grow into unmanageable wildfires that ruin your joyful retirement years.
Here is the sample letter to edit as per your requirements. Use the letter as a guide for what to include and how to phrase your farewell:
Sample Farewell Letter To Coworkers
Dear esteemed co-workers,
After ten enjoyable years at Company, I will be retiring on May 31. Before my departure, I would like to thank you all for contributing to the happy years I've invested at this Company. Life won't be the same without seeing each of your bright, eager faces on Monday mornings.
Prior to my date of leave, you are welcome to approach me with any questions or concerns, and I will be happy to assist with the transition as New Person assumes my responsibilities on June 1.
New Person's contact phone number is 555-555-5555 and email address [email protected] They are looking forward to working with you all! Please take a moment to welcome them to the team.
My retirement plans are up-in-the-air at the moment, and will surely consist of a vacation followed by the re-reading of many favourite books, completing home renovations, hosting and attending backyard bbqs, and cherishing visits with family and close friends. I am excited for this next chapter of Quality Time! 
[OPTIONAL] May our paths cross again soon. Maybe see you on the golf course! You can reach me at 555-555-5555 and/or [email protected]
Cheers,
Your Name
Signature
Related
Happy Retirement Wishes to a Retiring Colleague
Simple Thank You Notes for Coworkers, Colleagues, Bosses & Business Friends