Night time is a time for reflection, for tying up loose ends in your mind, for tallying all the positive moments in your day, being grateful for small blessings, and for sending all your love to the good people everywhere. Whether you believe in a Higher Power or not, prayer has selfish benefits similar to meditation, plus it just feels good to focus on what you love and to send positive thoughts into the world.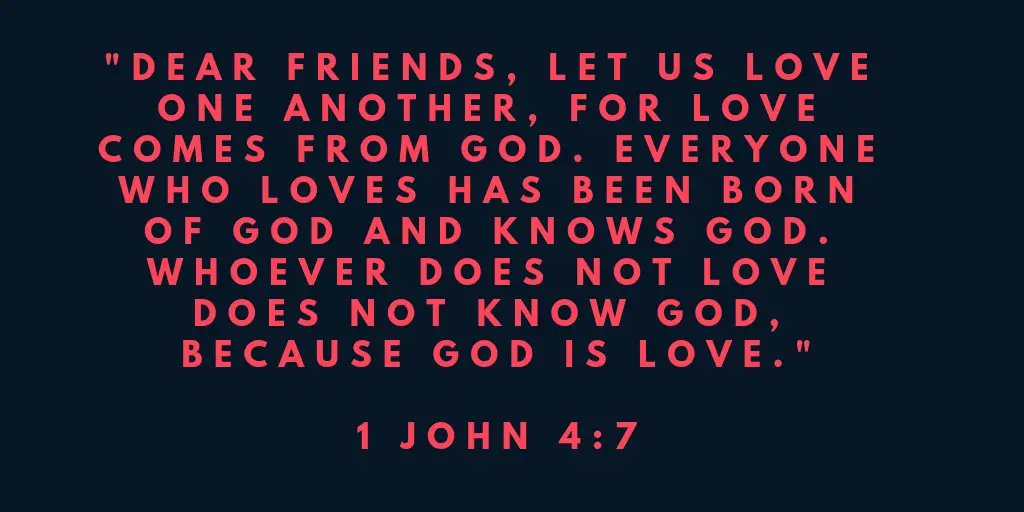 Goodnight Prayers for Your Love (Her)
I thank the Lord above for lending me an angel to love. Thank you for sharing this life's roller-coaster ride with me, and for choosing this moment to shine your love. You remind me of what it means to be alive and to open myself up to inspiring possibilities to become all that I can be. Sweet dreams, Love.
No matter how challenging your day may have been, I am grateful to God for bringing us together to experience all of this together. Have a good sleep tonight, my dear.
Sweet dreams tonight, you're dear to all that is Good in this world. Bless you and may God keep you. Love you!
Whether day or night, you are in my thoughts and prayers. Tonight I give prayers of thanksgiving and happiness, celebrating the goodness that you are. Sweet dreams!
Give God all your problems and relax into a refreshing sleep tonight. All is taken care of, now it is time for you to recharge your body and mind with a good night's sleep. xoxoxo.
The fire in my heart burns strong and keeps you warm all night. Sweet dreams and let your cares and worries fade away in perfect resolution for all involved. Let God take the wheel and enjoy your rest.
Hey, I have been thinking of you all day. I miss you and think of your hands holding mine, your smile at rest, your ear against my chest, listening to my heartbeat. Always sending my thoughts and happy prayers for your continued happiness. When I close my eyes, I see your face. Goodnight, I love you.
As you drift off to sleep tonight, may your strength be renewed. May you be rejuvenated and feel eager to face the days ahead. Sweet dreams, my love.
Dear God, bless my precious wife. I am thankful for all that she does for our family and for who she is. Let her always know how much I love her and need her. Give her fulfilling rest through the night, wake her with a well-rested spirit, and provide her with the energy and inspiration she needs for her day. Thank you for blessing me with such a dear partner. Thank you for keeping her safe and healthy. Amen.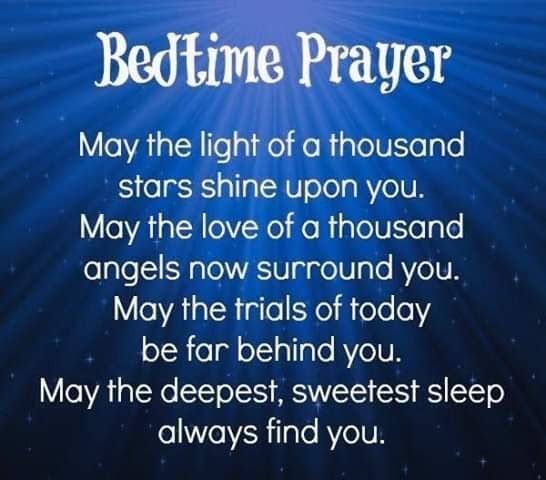 Sweet Goodnight Prayers for Him
Here are a mixture of prayers you can adapt for sharing with your husband or boyfriend, or reciting privately in your mind. The choice is yours.
Dear husband, you have added so much to my life. You are a blessing and I love you with all my heart. As we spend more time together and enjoy years of making happy memories, I pray that our time together becomes more precious. You are forever be dear to me. May dreams bring you closer to me in the night, as you drift into slumber. Goodnight and sweet dreams tonight, my love.
Sleep peacefully and leave all your worries to God. I'm here for you, too. Have a peaceful night, darling.
Dear Lord, thank you for our health and for a great night's sleep. Please forgive us for our moments of weakness, and thank you for the strength to be true to our inner compass.
Dear Lord, thank you for my loving husband. Bless him throughout the night with beautiful dreams of what compels him forward, give him his well-deserved rest, and wake him in the morning feeling ready and capable for any challenge. Keep him safe at all times, and always let him know how much I love him. Make sure he knows just how much I appreciate all he does for our family. In your name, I pray. Amen.
This is my prayer for you, that as you retire to your bed after this productive day of providing a safe and happy home for us, may the Lord hide you under His wings and renew your strength as you rise. Goodnight, dear.
Thank you for another pleasant day together. May you be ever loved and blessed beyond measures. Have a sound and refreshing sleep, my love.
Goodnight Prayers for Family and Friends
Sometimes you will want to share your prayers with your loved ones to let them know they are in your thoughts. Here are some short and sweet words of appreciation to message your friends and family at those times when you know they would love to hear a supportive message from you.
Sending you love and prayers of thanks tonight that you are guided and loved. I appreciate you and thank God that you are part of my life. Sweet dreams!
A bedtime prayer is a perfect way to give thanks for the blessing of the day and to affirm all the goodness in your life.
Thank you for the health of my family and friends, for the wisdom of our bodies to heal and to flourish in these times, and for the love of the creator that sustains all things.
Dear God, thank you for easing the minds and comforting the hearts of my loved ones. Thank you for your grace in all things seen and as yet unseen. I thank you for your love and comfort, and for the enthusiasm to fulfill our heart's loving purpose and calling.
Wonderful Lord, continue to bless my parents as they work so hard to take care of me. I pray they get a night full of deep, pleasant sleep. Thank you for preparing them for a fresh start in the morning. If I can make their night better, or their mornings easier, show me how to do that. Let them know that out of all the stars in the sky, they shine the brightest in my world. Please help me every day to show them appreciation and love for all they have done for me. In Your name, I pray. Amen.
This prayer is for my Grandparents:

Dear God, I pray for my thoughtful and kind grandmother. I appreciate her so much, and I would love for her to have a great night's rest. Give her peace with every breath and allow her to wake up fully refreshed and with a clear mind. Thank you for recharging her spirit with your overwhelming glory as she sleeps, and let her be delighted in You as she wakes. Bless her in all that she does and keep her safe. In Your precious name, I pray. Amen.
Sweet Lord, I pray and give thanks for my grandfather. Thank you for being the source of his strength. Thank you for granting him restful sleep through the night and placing sweet dreams of love in his mind. Shower down contentment and delight as he finds tranquil rest. Bless him with a healthy spirit, fresh faith, and an energized body as the rises in the early morning. In Your lovely name, I pray. Amen.
Goodnight Prayers for Kids
I recall reciting this one as a child before bed:
Now I lay me down to sleep,
I pray the Lord my soul to keep;
If I should die before I wake,
I pray the Lord my soul to take.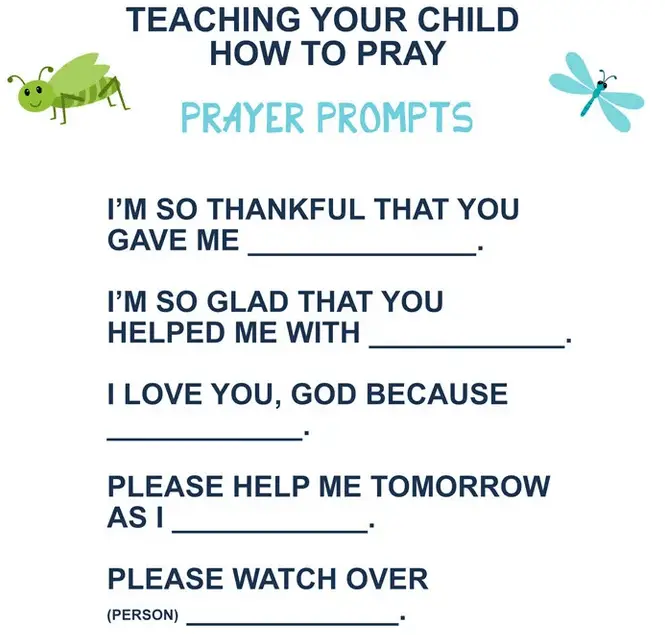 Dear Sweet Jesus, please give peaceful, loving rest to my children and family. Bless those that live with me and those that just seem like mine and live away from me. Help all of us as parents and people to be mindful of their needs, their wants, and their personality traits. Help us to make time to take care of more than just the basics. Let us see the beauty in their ways, the wonder in their ideas, and appreciate the love they have added to our lives. As they sleep, fill them with the knowledge that they are loved and wanted. In Your precious name, I pray. Amen.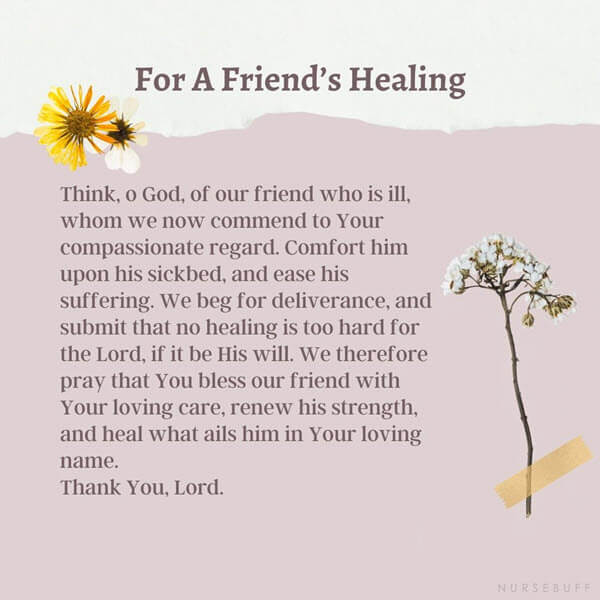 Goodnight Prayer for a Friend Who is Ill
This is a prayer for good health and all ending well for the highest good of all involved.
May [friend] express health and well-being, and feel the love I am sending to [him/her] now. Thank you for my friend and for all the blessings that flow because of our relationship. May [he/she] be all that [he/she] can be, and heal during sleep, in God's name, Amen.
May the peace and comfort of God surround you and speed your recovery.
Bedtime Prayers for a Challenging Day
Dear Father, thank you for all the blessings I didn't notice today while I was focusing on what wasn't working. Thank you for holding me together today. Thank you for all the small kindnesses I experienced today from everyone I interacted with on the way to work and on the way home. Thank you for every bit of love, mercy, and grace that was shown to me, though I did not feel deserving of it. Thank you for your faithfulness even in my self-imposed suffering. I pray that I may be an uplifting light or offer a smile of comfort for someone else on their journey. To you alone be the glory. Amen.
Father, it takes everything in me to stop from retreating from everything and everyone. It's all I can do to cry out for help in this prayer. Please extend your grace to me this day. I thank you for your strength and grace, even though I cannot yet see clearly. Help me to see that you are in this and that you are with me. Help me to remember that you are not surprised or taken off guard by the events of this day. Forgive me for my fears about this day.
Dear Lord, please help me trust in Goodness prevailing and empower me through your grace to be responsive to your cues. Thank you for your faithfulness in my life and in everything. Glory be to God, Amen.
Father, thank you for holding me together today. I needed you, and you were there for me. Thank you for every bit of love, mercy, and grace that was shown to me though I did not deserve it. Thank you for your faithfulness even in my suffering. To you alone be the glory. Amen. (Topher Haddox)
Short Bedtime Prayer for Protection
We appreciate you for loving us, and that you offer your unending support and guidance and the strength to get through the day by living according to your will and your word. Be with our family and friends and keep us safe from the trials of the dark night. Thank you for protecting and guiding us as we move forward by your grace.
Billie
I like to climb mountains, read Nietzsche, and explore the West Coast. I have a BA from York University (2003) in Toronto, Canada, and yet on this site I sometimes spell like an American (know your audience). Thank you. Thank you very much.