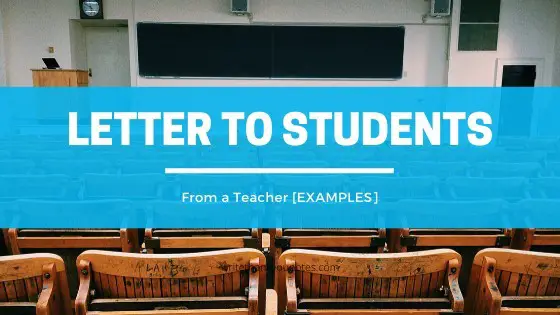 A generic letter that works for welcoming new elementary students into the classroom, saying goodbye to a class graduating to high school, or a message to broadcast at any time to let your students know you are rooting for them with these words of encouragement that inspire your children and students to succeed:
Dear Students,

My wish for you is that you see the light in this world, in yourself, and in
others. I see the light in you.

Compliment others, and be proud of your own accomplishments. I am proud of you.

Believe in yourself, for you are stronger than you know. I believe in you.

Try hard, but know your limits. Ask if you need help, and trust others will help you. I will help you.

Fill your heart with laughter and smile often. I love to see your smile.

You are a unique, special, and amazing person. There will never be another you. I appreciate all of you.

Dream, believe, wonder, inspire, love, nurture, and always listen. That is what I will do for you.

Love,

Your Teacher
Thank You & Farewell Message to Students on the Last Day of School
Teachers, you've asked your students to research and write and prepare many a paper throughout the year — now, it is time to show your students how it is done: Write Them an Inspiring, Emotional Farewell / Summer Send Off Letter. Bonus points if everybody cries.
You'll want this page if you're a student looking for example thank you messages to write to your teacher.
An Open Letter to My Students at the End of The Year
My students,

I know these last few weeks haven't been easy. There are so many expectations and much excitement over the end of the school year. I know I'm a little more easily frustrated this time of year and I can seem more difficult to please. I know you are feeling a bit more wiggly as you become filled with anticipation over the fast-approaching summer, but I want you to know something.

I want you to know that as we embrace the blur of awards ceremonies and report cards that this time of year brings, I'm feeling a bit bittersweet. 

I look at you and realize you aren't the same kids that I welcomed into my classroom last year. You're all a couple inches taller. You have a different haircut. Your style has changed a little as you've grown into yourself a tad bit more. 

I think of how you've learned. You're reading at a higher grade level and you can speak with a confidence you didn't possess in August. You're not that same kid I met; you're different, and that simultaneously breaks my heart and comforts me.

You see, I'm looking forward to this summer as much as any of you. I've dreamed about my alone time and I've wished time away. I'm proud of the job I've done when I realize the kids you've become, but I can't help but wonder if I did enough. Could I have done more? Did I prepare you for the road ahead? Did I give it my all?

And mostly, I did. I had cloudy moments where my vision was blurred by stress from too many papers to grade and too many conferences to conduct, but I always cared. Always. And I hope you always felt that. 

I hope you always knew that I cared; more than you learned how to write a thesis statement and more than you know how to write a coherent essay. Of course, I hope that I prepared you for what's ahead and made your transition to the next grade easier, but I could live with not being the best essay-grader or the coolest lesson-giver. I hope, more than anything, that I'm the teacher that prepared your heart. I hope I'm the teacher who helped you handle rejection with grace. I want to be the teacher who was firm but kind. I hope I was the role model you needed.

Today, it's hard to say goodbye. It's an adjustment to go from welcoming your face at my classroom door each morning to wondering how you're doing years later. It's difficult to go from being your safe place to someone you see occasionally in a hallway. 

I know I am *just* your teacher, but we've spent five days a week together for the last ten months and change is never easy. I hope you'll remember me. I hope my discipline made you stronger. I hope my kindness made you feel safe. I hope that my classroom was a place that you learned many things and made many friends; I hope it was a place you genuinely like to be. While I'm a little sad to welcome a whole new group next year instead of continue to know you more, I'll think of you succeeding where you are. I'll think of how you've grown and how you'll continue to do so. And I'll not only think of how much you've learned but also how much you've taught me as we've grown. – boredteachers.com
The end of the school year is a bittersweet time for both students and teachers. Everyone is ready to move on to a new phase: Farewell, 8am classes! Hello, beaches and bbqs, daydreams and social lives!
The end of the school year offers a reprieve from endless researching and marking and micromanaging and parent involvement (or lack thereof).
Goodbye to Students from Teacher (Preschool, Elementary)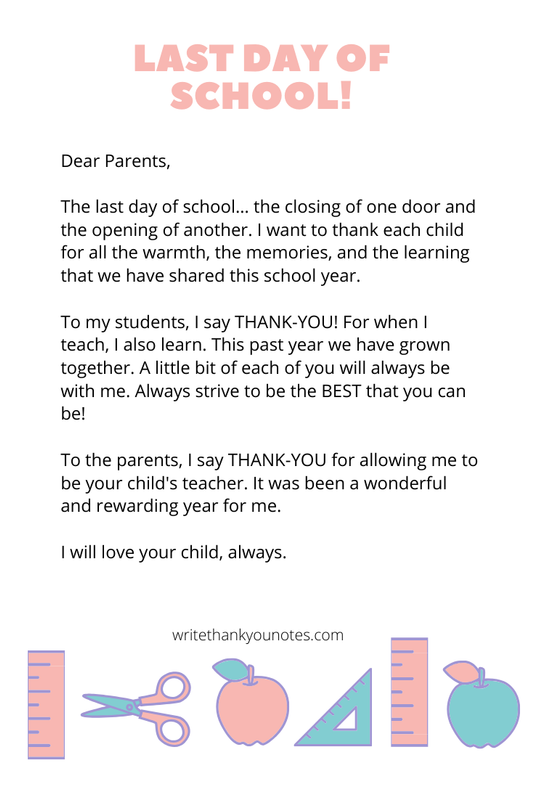 Dear Parents,
The last day of school… the closing of one door and the opening of another.

I want to thank each child for all the warmth, the memories, and the learning that we have shared this school year.

To my students, I say THANK-YOU! For when I teach, I also learn. This past year we have grown together. A little bit of each of you will always be with me. Always strive to be the BEST that you can be!

To the parents, I say THANK-YOU for allowing me to be your child's teacher. It was been a wonderful and rewarding year for me.

 I will love your child, always.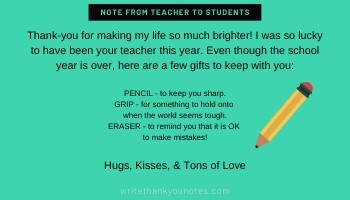 Welcome Letter to Students from Teacher (Preschool, Elementary)
Writing a student welcome letter is a great way to greet and introduce yourself to your new students and their parents. Its purpose is multifaceted: to welcome new and returning students, set expectations and standards for the school year, and offer parents a glimpse into your classroom. This is likely the first contact between the teacher and parents, so anticipate their questions, provide a welcoming intro answering their questions, and provide contact info or a process for contacting you throughout the year. Proactively set a positive tone for the school year.
A letter from the teacher welcoming the students, should include the following:
A bit about you and your teaching philosophy
Contact information
The behaviour expected of your students
Your teaching methods, or what students and parents can expect
Homework policy, or other measure of progress
Supplies students will require
Sample Welcome Letter for [Grades One to Six] Students
Welcome to [X] Grade!
Hello! My name is [X] and I am so excited to be your teacher this year! We are going to have a lot of fun in [First to Sixth] Grade. This school year is going to be very exciting and busy as we learn and grow together. Also, I can't wait to get to know you.
I have been teaching at [This school] for [X number of] years now and I love being a [First to Sixth] Grade teacher. When I was your age, I always wanted to become a teacher and work with young, bright minds. We are going to spend a lot of time strengthening our reading and math skills so that you become a super-sharp [First to Sixth]-grader!
This year is going to be an adventure. I hope you are just as excited as I am to begin!
Yours,
Your [First to Sixth]-Grade Teacher
Related
27 Complete Thank-You Messages for Awesome Teachers
Gifts Teachers Actually Want (Handwritten Notes Top the List)
Billie
I like to climb mountains, read Nietzsche, and explore the West Coast. I have a BA from York University (2003) in Toronto, Canada, and yet on this site I sometimes spell like an American (know your audience). Thank you. Thank you very much.