Send your daughter some love on her birthday with a short text, embarrassing social media post, heartwarming emotional expression, or a longer thoughtful note in a birthday card she will cherish.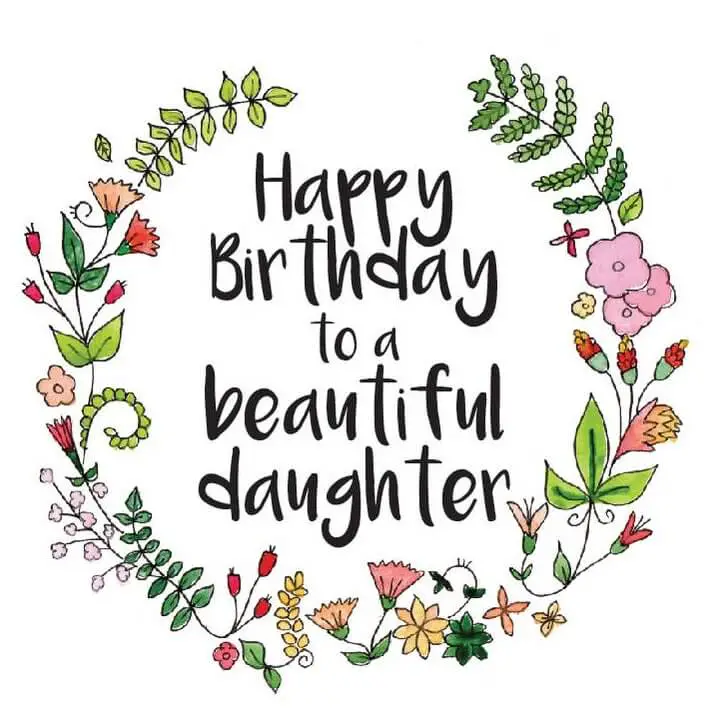 Funny Happy Birthday Messages to Post to Daughter's Social Media
Happy birthday to the dear who decided to put me through hours of labour and then cried about it for months! I love you!
Today's diet consists only of birthday cake. Have a great day, daughter!
Daughter, time seems to have flown by. Just the other day you could barely stand, and now I get to watch you run the world! Watching you grow up has been such a joy, and I know that only greatness and happy moments are ahead for you. May your birthday be just as spectacular and unpredictable (in the best way) as you are.
Where are my presents and congratulations today? After all, I'm the one who brought you into the world! Happy birthday, my dear!
Uh oh, we're starting to run out of space on the cake with all these candles! You're catching up to me. Happy birthday, daughter!
Finding a gift for you gets harder and harder every year. This year I've finally found the best one yet: hugs and kisses. Happy birthday!
Happy birthday to someone who is talented, cherished, intelligent, compassionate and wise! We are so alike. xoxoxo
Never stop being yourself — you're the coolest person I know. Happy birthday, daughter
The year you start lying about your age has finally arrived. Happy Birthday, daughter!
To our daughter on her birthday: Forget about the past, you can't change it. Forget about the future, you can't predict it. Forget about the present, we didn't get you one.
I smile because you're my daughter. I laugh because there's nothing you can do about it! Happy Birthday!
Congratulations, you're an adult at last. (So pack your bags, we've rented out your room.)
Now that you're a teenager you can officially be a difficult person and give us a hard time. Happy 13th Birthday! Love from your overbearing mother and father.
"You are braver than you believe, stronger than you seem, smarter than you think and more loved than you'll ever know." (A.A. Milne) Happy Birthday, daughter!
Your birthday should be a national holiday. I'll be the first to volunteer to take a day off work in your honour. Happy Birthday, fabulous daughter!
May God grant you all the desires of your heart. Let somebody else do the work for once. Happy birthday, daughter!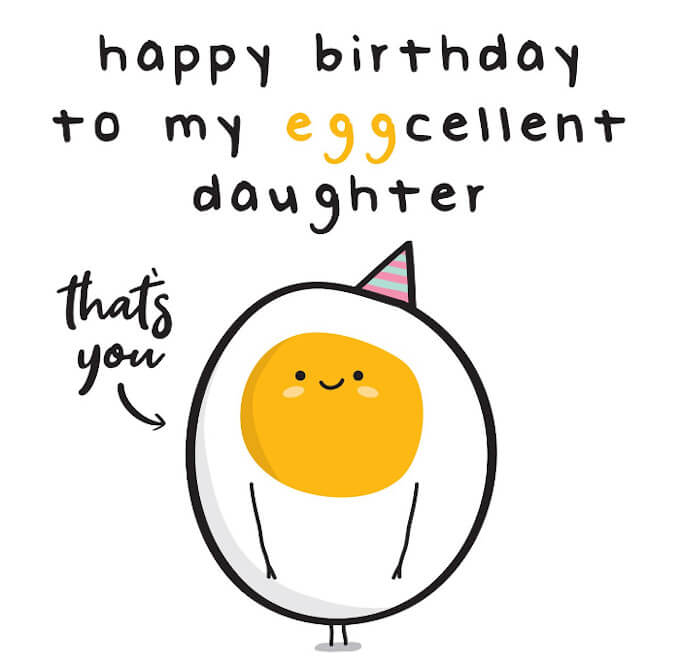 Inspirational Words for Daughter's Birthday
Your positive attitude will take you far in life. Keep your promising outlook and the world will be your oyster. Happy birthday, beautiful girl!
No matter what you decide to do in life, know that I'll always be your biggest cheerleader. Happy birthday, to my dear daughter.
Happy birthday to my smart, fierce and funny young lady. I love you!
You renew my faith in the world because any world that has as incredible a person as you in it is one that can only be good. You are such an inspiration to me, and I hope you feel surrounded by love and warmth on your birthday. Happy birthday!
A daughter is God's way of saying, 'I thought you could use a lifelong friend.' Thank you for being mine. Happy Birthday my dear.
Happy Birthday to the kindest and most beautiful daughter the world could ever know. Enjoy your special day!
Keep spreading your happiness and following your dreams. Love you and happy birthday!
Nothing lights up my day like you. Happy birthday, sweet daughter!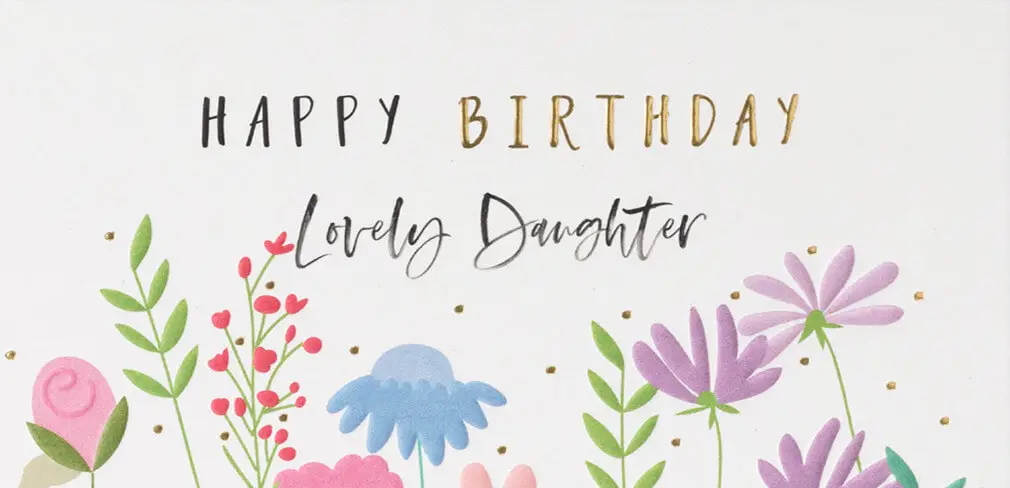 Birthday Messages For Grown Daughter From Mother
I am proud to say the mini version of myself is way better that the original one. Happy birthday sweetheart.
I'm so grateful to have you as my daughter. Happy birthday, sweetie!
The day you were born was the greatest moment of my life. I am so grateful that I have a daughter as honest, beautiful, and intelligent as you. Happy birthday!
Happy birthday to my darling daughter!
Happy birthday to my daughter and my best friend!
I'm so grateful that God chose me to be your mother. There is no greater love. Happy birthday, daughter!
When I look at you, I see an incredible woman who knows what she wants out of life and is willing to give her all to get it. Your heart leads the way and I'm so lucky to watch you blossom. Happy birthday!
In the world of copycats, you are an original. You are a force to be reckoned with, and I am beyond proud to call you my daughter! Happy Birthday.
I admire the loving, independent woman you've become. Happy birthday!
May God grant you all the desires of your heart. Happy birthday.
As your mother, I know you've always looked to me for guidance. But now as you mature into an outstanding woman with children of your own, I admire you. It brings me so much joy watching you raise my grandchildren. Happy birthday!
Birthday Messages For Grown Daughter From Father
There's this girl who stole my heart, and she calls me dad. Happy birthday!
Happy Birthday. You are the best gift I have ever received. Enjoy your special day!
What's not to love about you? From your warm smile to your kind heart, you're truly a gem. Happy birthday, baby girl!
You stole my heart the day I stared into your bright knowing eyes. I've been in awe of you since day one and that will never change. I love you. Happy birthday, daughter!
I can barely remember my life before you entered it — that's how much you have affected my entire existence. Happy birthday, my dear daughter.
Every day you make me proud. But today you get a card. Happy Birthday!
Euripides said: "To a father growing old, nothing is dearer than a daughter." And he was right. You're a blessing in my life and bring me so much joy. Many congratulations on your birthday. Love from Dad.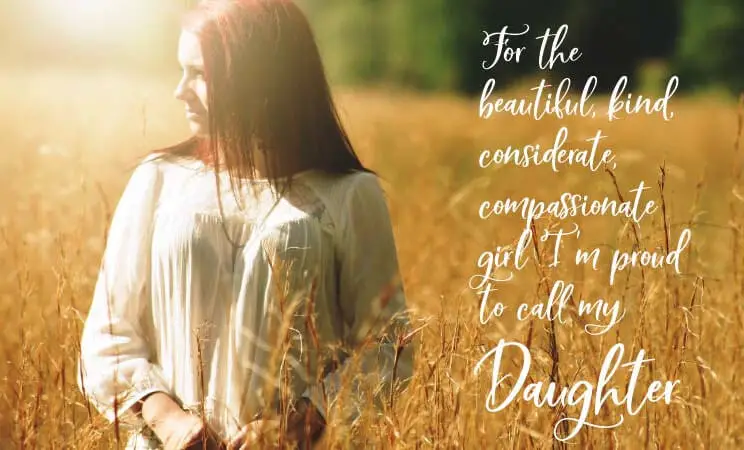 Birthday Sentiments For Adult Daughter From Parents
To our daughter, wishing you the happiest of birthdays! Love, Mom & Dad
Happy birthday to our wonderful daughter. Enjoy all the beauty this day brings and surround yourself with all your favourite things.
Every day you give us a thousand reasons to smile. Happy birthday to our cherished daughter!
We are so proud to call ourselves the parents of such an amazing daughter like you. We wish you a very happy birthday! May all your dreams and aspirations come true. We love you!
The world is a better place with you in it. Happy Birthday, dear daughter!
Billie
I like to climb mountains, read Nietzsche, and explore the West Coast. I have a BA from York University (2003) in Toronto, Canada, and yet on this site I sometimes spell like an American (know your audience). Thank you. Thank you very much.