If you do nothing else for your mom all year, for the love of all things good and pure in this world, please acknowledge your mother (or person who raised you) at least once a year.
Ideally, whenever you feel moved to appreciate your mother for the gift of life or her (mostly) unwavering love, is a great time as any to do so; and if you forget (!), there's always Mother's Day to try to make it up to her.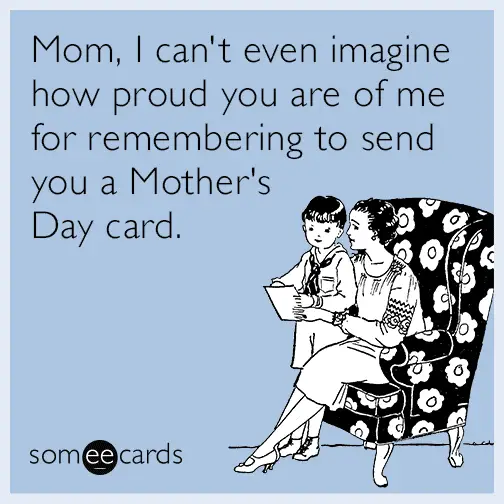 Handwritten in a card with flowers, or accompanied by a thoughtful gift card for her favorite activity, these notes mean more to a mother than lavish gifts ever could. Make every day Mother's Day with these thoughtful messages:
When people tell me I'm turning into my mother, I actually take it as a compliment.
Dear Mom. Like a nurse, you take care of what hurts. Like a map, you help me find my way. Like a superhero, you always save the day. Like a library, you share your knowledge with me. Like a sturdy pair of legs, you allow me to stand on my own two feet. Like a therapist, you patiently listen. Like a tissue, you wipe away my tears. Like the ocean, your calm presence is always there. Like no one else, you love me. And like home, you are where my heart will always be.
Dear Mom: I'd been excited for the day of my wedding ever since my childhood days. I never really thought of my life after the wedding. Well, now that I'm married, I realize that it's not all joy and happiness; life is also about responsibilities and sacrifice. Don't laugh. There are things to do for the family and these obligations often get in the way of the time I would usually have for myself. Sometimes I think of how you were able to do it all so well; you made being a mom and a wife seem like the most natural thing in the world. Sometimes I miss being the pampered little girl that I was when I was with you. I miss your home-cooked meals whenever I prepare a meal that's not even close to the way you cook. I miss coming home to a clean home and lounging about, not knowing how much effort you put into keeping our home tidy. I guess what I want to say is that I'm really grateful for all the sacrifices you have made for us. Thank you for everything, mom!
Dear Mom. I'm sorry for being a difficult daughter. I'm sorry for all the b.s. I put you through. I'm sorry for being annoying, rude, or mean to you. I'm sorry that I never got to say thank you enough. But here I am, hoping I can make up for all the opportunities I missed. Thank you for putting up with me. Thank you for holding my hand through the most difficult times in my life. Thank you for being there for me, in happiness and in pain. Thank you for always loving me unconditionally. I said and did things that would have driven anyone else out of my life. But because of your unconditional love, I have learned to be a better person. Thank you for never leaving my side. Thank you for being the best mom you could be. I love you!
Mom, I sometimes wish I never had to grow up, so you'd always be there by my side. The good thing is I've realized that growing up doesn't mean growing apart from you; instead, it means learning things on my own while taking with me the lessons you've taught me. You are my greatest teacher, my number one fan, and the woman I love most in this entire world.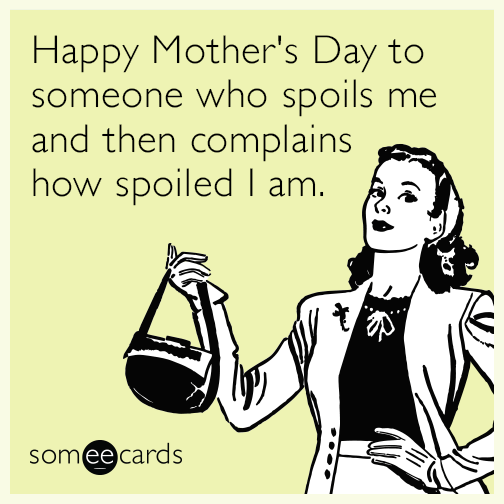 Cute and Funny Quips to Lighten the Mood
Whatever Dad gives you for Mother's Day, was my idea.
Dear Mom, just wanted to wish you an especially Happy Mother's Day, now that I know what it's like to be a mom.
Happy Mother's Day to the woman who fed me as a baby and for most of my twenties.
Thank you for being a mother to me and a grandmother to my cats. We love you!
Happy Mother's Day to a new mom who has yet to mess up someone else's life.
I hope a mediocre Mother's Day brunch can help negate 364 days of smug ingratitude. Love you!
Happy Mother's Day to the person who believes I can do anything despite all evidence to the contrary.
Happy Mother's Day to the TV that raised me.
Happy awkward Mother's Day to all the step-mothers out there!
Happy Mother's Day to someone who doesn't care whether I marry a man or a woman, as long as I give you grandchildren.
Happy Mother's Day to someone who carried me for 9 months physically and 29 years financially.
This Mother's Day I'd like to apologize for treating you like an Uber driver when I was younger.
When is Mother's Day Throughout the World?
At the heart of the traditions around Mother's Day are themes of honoring mothers, compassion, peace, reconciliation, and social action. (1)
Today, Mother's Day is celebrated (officially and unofficially) in dozens of countries, although on different dates. In the United States, Canada, Denmark, Finland, Italy, Turkey, Australia, Belgium, and Japan it is celebrated on the second Sunday of May.

In Great Britain, Mothering Sunday falls on the fourth Sunday of Lent. But Mother's Day is now observed in England as it is in North America, and the traditions associated with Mothering Sunday have been largely forgotten.

In Mexico, Mother's Day is always celebrated on May 10. When the holiday falls on a weekday, mothers take the day off from work and children stay home from school. Other countries that celebrate Mother's Day on May 10 include Hong Kong, India, Malaysia, Pakistan, Saudi Arabia, Singapore, and the United Arab Emirates.

In Spain and Portugal, Mother's Day is celebrated on December 8, which is also the Feast of the Immaculate Conception. Mothers are honored along with the Virgin Mary, the mother of Jesus.

Other dates for Mother's Day celebrations: Norway – second Sunday in February; France – last Sunday in May; Sweden – last Sunday in May; South Africa – first Sunday in May.
Related Links
A Special Thank-You Note to Your Sister
Weddings: What to Write in Thank-You Notes
Classic "Thanks for the Gift" Notes
Thank You Notes for Awesome Teachers
Billie
I like to climb mountains, read Nietzsche, and explore the West Coast. I have a BA from York University (2003) in Toronto, Canada, and yet on this site I sometimes spell like an American (know your audience). Thank you. Thank you very much.