The following sample letters are designed to promote goodwill among clients and employees.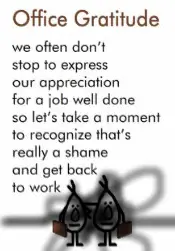 Feel free to use the samples below or to follow the general outline for writing an effective note of appreciation that conveys how valued your team members' contributions are to the continued success of the company.
Letter Outline
Step 1: The first part of the letter states your purpose.
Depending on the reason for writing the letter, this may vary from complimenting an employee on an accomplishment to apologizing for being unable to attend a social event.
Step 2: Details

The second part of the letter gives the details or background information for the first part. This may be anything from explaining to a client the action required to correct a problem to giving details about a social event.
Step 3: Summary

The last part of the letter acts as a summary, reminding the recipient of the general nature of the letter. It may be a thank you, or it may restate what has been said in the first part of the letter. For example, if the letter is congratulatory, the last part re-congratulates the recipient. Redundancy has no claim when it comes to praise. We all love to hear about how what we do, matters to someone; especially when that someone is in a position of authority.
Recognizing a Suggestion
Employee Appreciation Letter
Acknowledging an Official Anniversary Boosts Morale
Congratulations to your Client

Congratulations to your Employee

Congratulations to an Associate on a Promotion
Thank-You Letter to Outside Vendor
Employee Accomplishment Acknowledgment
Employee (or Related to Company) Accomplishment Acknowledgment
Specific Sample Thank-You Letter to an Employee
Compliment Letter to an Employee
Follow-up Letter after Sale
Related Posts
50 Funny Thank You Notes – Say Thanks in a Funny Way
Thank You For Continued Business
Business Hospitality Thank You