How to say "Thanks for the food!"
Thank you Note For the Food Gift You Brought & For Grocery Delivery
Maybe households are inaccessible due to pl*ndemic reasons. Other people are stuck inside without a vehicle or access to a garden or store nearby, and rely on others to do their shopping or deliver their groceries.
How do you thank someone for saving your life by providing you with the basic necessities?
With a simple thank-you note?
Yes.
Something so simple and seemingly small makes a huge difference to the person bringing your food or groceries.
Thank you for delivering my groceries each week; I really don't know what I'd do without you. Please stay safe while you are keeping us all safe, and know that what you do makes a big positive difference to me and to others.
Though apart, I somehow feel that we are now united more than ever by our humanity when I witness the generous and kind acts of people like you. Thank you, dear person. 
Creative Appreciation For Dinner When You Don't Have Money
Sometimes a card alone just doesn't feel appropriate. If you have a roommate who makes you dinner every Sunday night, or a grandmother who is thoughtfully sending you cookies and news clippings of developments in a field that is of interest to you, you might want to thank your angels in their language — appreciate them in action.
Here are a few creative ideas for thanking someone for food:
Write a poem: Consider writing a short poem or rhyme to express your gratitude for the food. This can be a fun and unique way to show your appreciation.
Create a thank you video: If you're feeling particularly creative, consider making a short thank you video to share your appreciation. This could be a fun and memorable way to show your gratitude, especially if writing isn't your style.
Make a personalized thank you card: A twist on the traditional, consider creating a personalized thank you card using a photo of the food or a drawing or illustration. This can be a thoughtful and unique way to express your gratitude.
Write a thank you note on a recipe card: If the food was something that you particularly enjoyed, consider writing a thank you note on a recipe card for the dish. This can be a useful and practical way to show your appreciation.
Create a thank you gift basket: Consider putting together a small gift basket with items like gourmet food items, herbal teas, or cooking tools to show your appreciation for the food. This can be a fun and creative way to say thank you, and it doesn't have to be expensive.
Show Your Roommate You Appreciate Their Dinner Efforts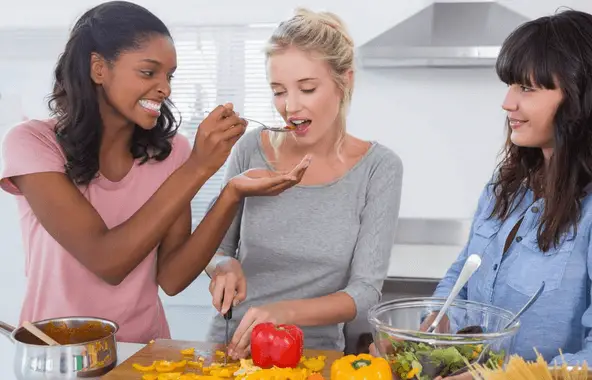 For example, your roommate loves to cook for you. Consider gifting a bag of raw ingredients for them, or leave a bowl of fruit on the table, or a package of chocolate almonds for dessert.
Do you have a gift of expression in the dish-washing department? Then wash away.
Perhaps you enjoy flower-arranging. Arrange some nice flowers for the common areas to beautify the place and put a smile on the faces of your roommate and your friends.
A good mood breeds more good deeds.
How to Thank Your Family for Sunday Dinners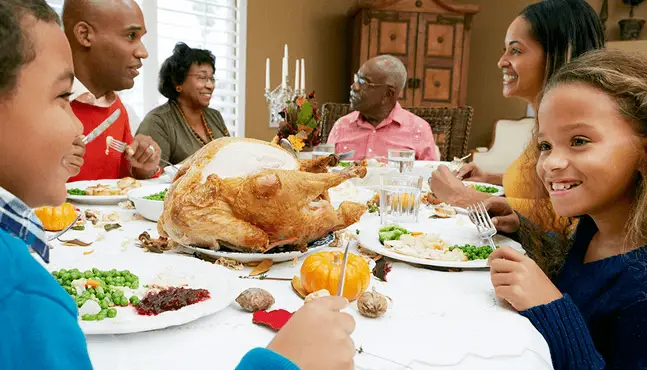 Does your grandmother appreciate your connection with her? Why not give her a call out of the blue, ask her about the birds she's spotted at her feeder this week.
Send her a scrapbook of what your dreams and goals are. Shovel out her driveway or bring her some seeds for her garden. Just do something, anything, that shows you are thinking of her and that you appreciate her in your life.
You will be surprised at how the simplest gesture of appreciation from you means more than you know.
Sending Food as a Gesture of Thanks & Appreciation
Edible thank-yous are a practical and delicious way to say thanks. Everyone appreciates a homemade token of appreciation, yet keep in mind the individual's likes and dislikes, allergies, diet constraints, etc.
Here are some creatively edible thanks ideas:
Send them a cake wrapped in ribbons or otherwise nicely presented, along with a note such as:
"You take the cake!"
"With you, I get to have my cake and eat it, too!"
"You are the icing on the cake!"
"Your help made this a piece of cake!"
"You're my angel!" (attached this note to an angel food cake)
More sweet ideas for giving thanks with a treat: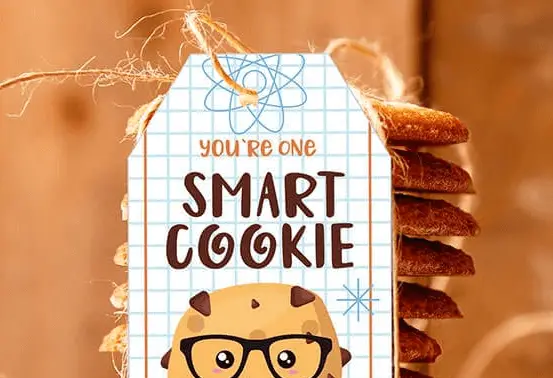 9 creative food tag ideas: attach cute little notes to a basket of….
"To one smart cookie!" (cookies)
"I chews you any day!" (bubblegum)
"Thank you for using your noodle" (pasta care package)
"My heart-felt thanks" (heart-smart, healthy food choices)
"I've gained so much in knowing you… now it's your turn!" (tons of snack foods and chocolate deliciousness-es)
"Thanks for getting me out of a jam" (jellies and jams with cheese and crackers)
"It's bean a wonderful summer with you" (jelly beans, or coffee beans, or black beans….)
"I'd have gone nuts without you!" (assortment of nuts)
"To the sweet smell of your continued successes" (honey, sweets)
(I'm sure you can come up with more cheesy ideas….)
Related Pages
Thank-You Notes to Host for Hospitality
Thank-You Notes for Dinner (Food, Friends, Catering)
50 Funny One-Liners: How to Say Thank You in a Funny Way
From the Heart: Craft a Meaningful Thank-You Note For Any Gift [Christmas, Birthday]
Billie
I like to climb mountains, read Nietzsche, and explore the West Coast. I have a BA from York University (2003) in Toronto, Canada, and yet on this site I sometimes spell like an American (know your audience). Thank you. Thank you very much.