Thank-You Note for a Gift in a Workplace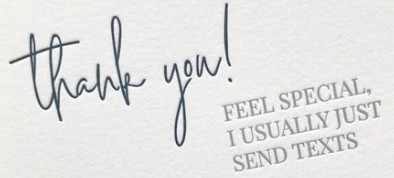 Business "Thank You for the Gift" Note Wording
Example 1: Thank you for the thoughtful gesture
Dear Lana:
The luscious fruit basket was waiting in my room when I checked into the hotel last Thursday for the convention. What a nice surprise! –- Especially after the usual airline delays and missed connections.
I had a bedtime snack and retired for the night, knowing someone still thought of nice things to do for other people. I enjoyed the fruit again for breakfast; thanks to your being so considerate, I didn't have to worry about finding a breakfast place or calling room service and wondering whether the meal would appear on time.
You were so thoughtful. Thank you! Your gesture certainly started my convention week on a warm note.
Cordially,
Susan
Example 2: For the gift from a mentee
Dear Mr. Lopez:
Your Moleskine Pen and Notebook set arrived in my office today. Thank you so much. Somehow I have managed to lose the last two I've had — perhaps because I find them so nice to use and consequently carry them around in every available pocket.
You were thoughtful to remember me in this way, and I do wish you the best with your research project.
Sincerely,
Mentor
Example 3: For the gift from a mentor
Dear Sasha:
Thank you for the copy of The Modern Programmer: How to Handle People As Well As You Handle Data. I'm very anxious to read it and lower the level of my ignorance! The table of contents tells me this is a book I'll want to share and to recommend to others in my circle. It is a book I would have dearly loved to have had available when I was just getting my feet wet.
I appreciate your thoughtfulness in sending it.
Cordially,
Mentee
LINKS:
Thank you letter for a gift – What to say to a friend when they give you a thoughtful gift
Billie
I like to climb mountains, read Nietzsche, and explore the West Coast. I have a BA from York University (2003) and yet on this site I sometimes spell like an American (know your audience). Thank you. Thank you very much.