No matter the weather, despite the difficulty, the delivery agent must deliver. But how do you properly show your appreciation? And how do you show the appreciation in the right way to ensure or encourage stellar service? You want your fragile items respected, after all. Turns out a bit of pre-emptive sweetness goes a long way.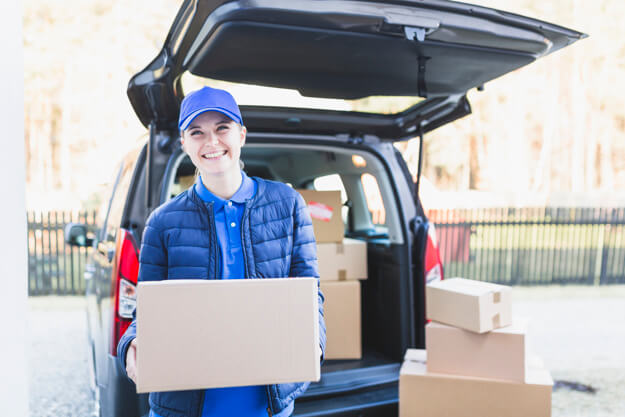 Why Thank Your Postie?
Mail delivery is no walk in the park, despite how easy your letter carrier may make the job look.
Posties are essential workers: 59% of adults say they depend on postal workers more than ever. (source)
According to the GAO, an average of 34,000 injuries to postal workers occur each year, with approximately 13,000 of those injuries (38 percent) directly attributed to mail delivery. (source)
The U.S. Postal Service reports that nearly 6,000 postal employees are attacked by dogs nationwide every year. (source)
How to Thank Your Postie & Delivery Drivers
Posties are people, too.
Posties like cards and money. Here are a few more kind ways to say thank you to your hard working posties, not only at Christmas and on National Thank a Mail Carrier Day, but on any and every day.
Money is King
When in doubt, a crisp 5 or 10 or 20 or larger dollar bill in a card is the perfect gift. Trust me, posties get enough chocolates and re-gifted items at Christmastime, they don't need yours. Although I'm sure they would still appreciate the thought, so if chocolate is what you've got, then chocolate is wonderful.
Drinks
Wine or beer sets are too heavy to carry in a satchel across potentially long distances, and some posties don't drink. And some posties might sit and drink all the bottles right then and there.
If you know your mail carrier well enough and know they enjoy imbibing, let them know ahead of time you'll be leaving some wine for them to pick up later, or if they arrive with a delivery vehicle every day anyway, that works too.
Hot chocolate packets or a mug and hot chocolate powder set are a thoughtful gift.
Yes, Gift Cards
Gift cards are the standard fallback gift for teachers and other acquaintances for whom you have no idea what to give. Posties go through shoes faster than a werewolf in Paris (?), so if you must descend to the level of gift cards, consider one from an outdoors or athletics store. Amazon gift cards work, but it's always better to support your local small businesses and keep your community strong!
Write Letters!
A handwritten card is a touching memento your postie will proudly display at their sortation desk, or perhaps bring home and add to their non-denominational Christmas tree or fireplace mantle. Nothing is more personal nor appreciated than a handwritten card saying thanks for all you do all year! (And some money.)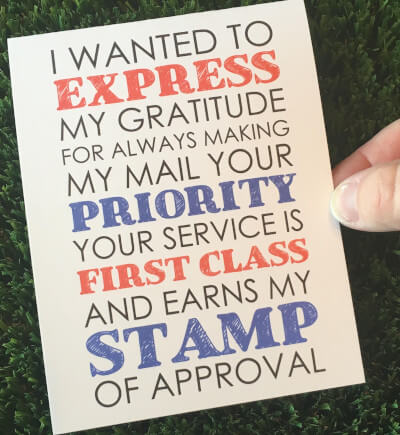 Some Mail Carrier Thank You Note Examples
Each day I look forward to opening the mailbox and finding another bill. Feel free to deliver a few cheques once every so often. 🙂 Thanks for your top-notch service, postie!
I want to thank you for the short visit and tea the other day; living way out out here gets lonely in the winter months and you are the person I look forward to seeing each day! Sad but true, hah. Thanks again!
How do you handle all those stairs in the winter? Here is a little money towards some new shoes or warm coffee this winter, whichever keeps you safe and warm!
I am thankful for your accuracy in delivering our mail (as opposed to someone else`s). I think the other postie we had was dyslexic. 😉
Thanks for being kind to our dog and for spoiling him with treats! We think he likes you better than he likes us!
Sweets and Treats
Posties appreciate an apple or granola bar or energy drinks if they are clearly marked that they are intended for your letter carrier. Be sure to seal perishables in a foodsafe ziplock or paper bag, and go crazy with the stickers and decorations if you have kids in your household (or even if you don`t). If you want to go above and beyond the call of duty, list the ingredients in case of allergies or food sensitivities.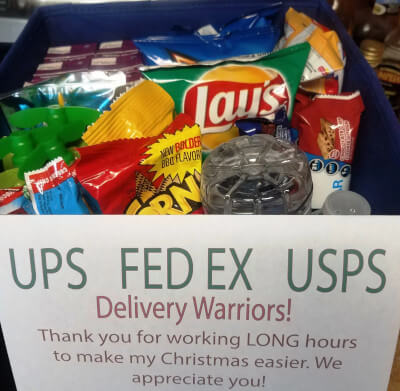 On Hot Days, Let Them Drink Water
Leave a bottle of water with a small ribbon and a thank you note clearly for your mail carrier. If it is an extra hot day and they are working overtime, leave the sprinkler on for them when they pass by.
Just Say Thanks
If you are home when the mail carrier comes, say a friendly hello and thank you. Get the kids to chime in, too. Letter carriers love that stuff.
Thank Your Mail Carrier, a Note From a Child
Think your humble note of thanks doesn't mean anything? Think again.
Here's an inspiring story from 2020's covid-19 plandemic: A Girl Wrote a Simple Thank You Note to Her Postman and Got Hundreds of Responses
Give Them Something to Brighten Their Day
"There are so many key workers out there helping to keep us safe and well – and posties are on the front line. Show your postie you love them with this brilliant poster from Plymouth illustrator Sarah Smalldon."
Also check out fun ways to say thank you to anyone.