Thanks to automatic reminders on smartphones or a friendly reminder from a parent, we get tons more "Happy Birthday" wishes sent to our phones and social media profiles.
And when loved ones and acquaintances send you birthday wishes, it is increasingly common practice that you reciprocate by thanking them for their wishes. Or to send a heart emoticon acknowledgement, because that's the simple and expedient thing to do.
If you are short of words to say thank you (because you want to send something more memorable and creative than the tried-and-true "Thank-you very much!"), we've got you covered.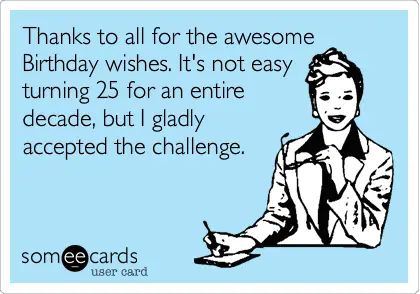 Thank You for All The Birthday Wishes (Facebook Status Messages)
If you are fortunate enough to receive numerous well wishes via one platform — Facebook, for example, you might consider posting a single thank-you to save time and also to let other people know that it is in fact your birthday.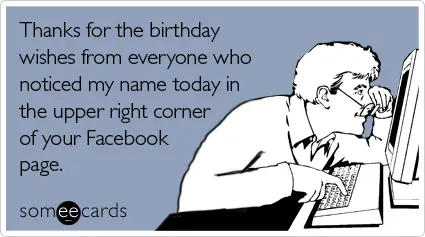 "Thanks, friends! I have lost count of your beautiful birthday messages. They are simply overwhelming. Thank you so much!"
"I want to shout-out a 'thank you' to y'all for all of the birthday wishes. It means a lot to me that you each took time from your busy lives to wish me a happy birthday. I feel very blessed to have each and every one of you as my friend."
For your Spanish-speaking friends: Thank you for the happy birthday wishes! It was a wonderful day! = ¡Gracias por felicitarme en mi cumpleaños! Fue un día maravilloso. 
""Thank you so much to all my friends and family that wished me (yet another) happy birthday! Special thanks to all my friends who are currently globetrotting and still made the effort. Love you all!"
"I don't think of this as getting older by one more year — it is another year of having all of you as friends! I so appreciate all of your birthday wishes!" 
"Thank you to all my lovely friends who made my day! Thank you for your thoughtful wishes and constant jokes keeping me distracted from the reality of aging. Love you all!"
Thank You For The Birthday Wishes (Individual Texts or Card)
Whether you are wished happy birthday on Facebook or some other social media platform, or perhaps in a personalized text or a thoughtful email, learn the proper etiquette for how to write thank you messages in response to happy birthday wishes.
These are also perfectly acceptable words to jot down in a thank you card for a birthday gift.
"Thank you so very much for the kind birthday wish; a thoughtful gesture such as yours really makes this day a special one. Thank you dearly, and I very much look forward to seeing you again soon!"
"No amount of money would be equivalent to the feeling of nostalgia your wishes brought me on my birthday. I really miss those good ol' days when we used to hang out a lot."
"Thanks for thinking of me!" <– A Classic
"Thank you for your wonderful wishes, I did indeed have a memorable day." 
Thank You Messages for Birthday Wishes During Quarantine / Covid

"Thank you for giving me the most sanitized card you could find."
"Thanks for sending me a virus-free birthday hug! Appreciate you and your thoughtfulness."
"Thank you for the gift of toilet paper — and holy crap, I can't believe I'm turning this age either! xoxo"
"Thanks for the birthday e-card! I miss seeing your face and hugging you for real; virtual hugs are okay for now, and thank you for loving me from afar. Until we see each other again, I love you!"
"Thanks for the much-needed zoom call today on my birthday. You reminded me that it is scientifically proven that people with more birthdays live longer, and I can't argue with that. Thanks for your fun-loving attitude, it makes the medicine go down in the most delightful way."
Funny or Sarcastic Reply to Happy Birthday Wishes on Facebook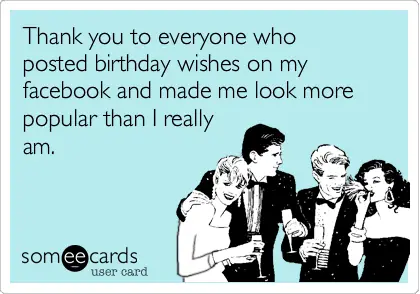 "Wow! Can you all stop telling me what to do? Just kidding, thanks for the birthday wishes!"
"Age is not just a number; it is also a reminder of how close one is to the inevitable. Thank you for joining me in celebration of my drawing closer to death. Love you all."
"Thank you all for the virtual gifts on Facebook, you made my wall quite like a Christmas tree. I would have been happier with real gifts, though."
"My birthday was the only time I realized some people were still alive. Thank you for sending in those beautiful wishes, though."
"Thanks for the birthday wishes, everyone. Hearing from you slightly lessened my despair at turning a year older."
"I hadn't realized I have so many friends, thank you so much for the birthday wishes, Facebook people!"
"I'm most grateful for your sweetness and kind words, my friends! I would have been ill-equipped to blow out all those candles without borrowing some of your hot air."
Smart-Ass Responses to Someone Wishing You a Happy Birthday
Funny birthday thank you responses keep people on their toes and make the world a better place. A gift to the world on your birthday!
"How do you plan on making me happy tonight?"
"Thanks. Are you going to jump out of a cake for me?"
"Thanks for reminding me that today is the day I came out of my mom's vagina."
"Thank you so much for the wishes… My lifetime of friendship is the only treat you will get in return from me."
"Thanks for all the birthday greetings, everyone! My phone was in my pocket on vibration mode all day, so every greeting was truly a gift."
"You're lying! My birthday was last year!"
"If only the good ones die young, then that means I'm a total badass!"
"Forget we're friends if you tell me that your present for me today is our friendship."
Funny Thank You Memes for Birthday Wishes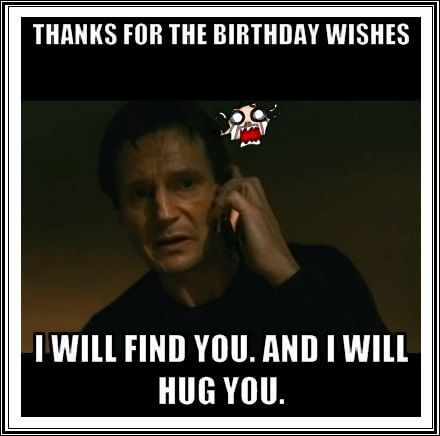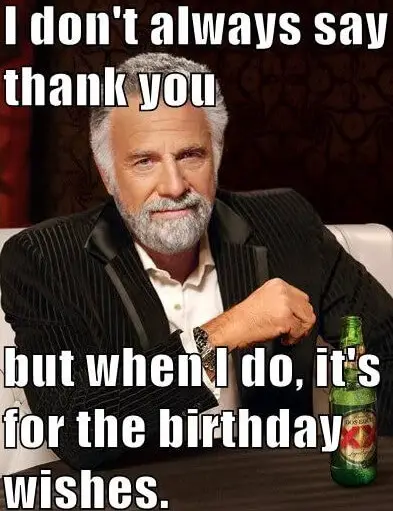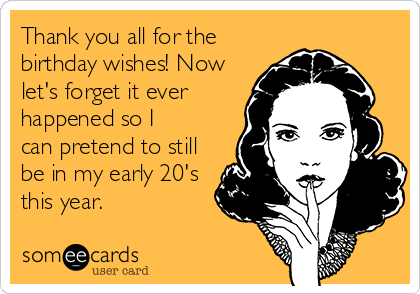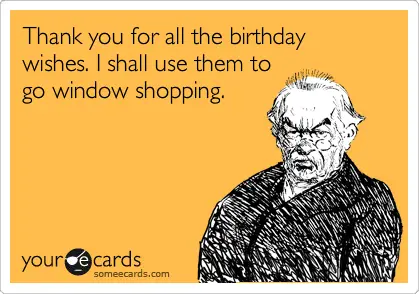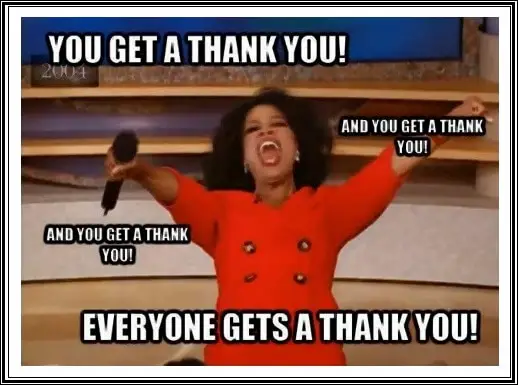 Thanks to everyone for reading! Hope you found some suitable ideas.
Related Tips
What To Say in a Thank-You Card Message
50+ Funny One-Liner Ways to Say Thanks
11 Ways to Say "I Hope You Are Well" in an Email Without Saying I Hope You are Well
Billie
I like to climb mountains, read Nietzsche, and explore the West Coast. I have a BA from York University and yet on this site I sometimes spell like an American (know your audience). Thank you. Thank you very much.