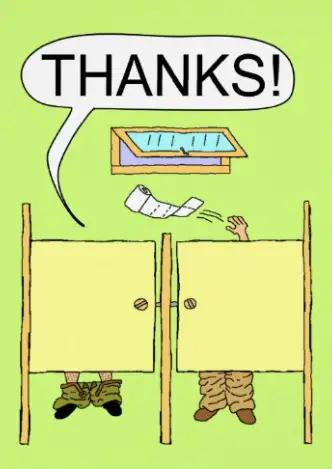 Make the thank-you message match the gesture; aim for the middle ground and do not overdo or underplay a thank-you.
Sometimes a simple "thank you" will suffice, while at other times you may want to give an equal amount of thought to your message or reciprocal thank-you gesture.
Remember that saying thank-you is always the right thing to do.
One-Liner Thank You Ideas For Friends
You brought a big smile to my face.
Thanks, [person]!
Thank you for… listening.
helping me move.
following directions.
being there.
the great service.
being so considerate.
your thoughtfulness.
suggesting that idea.
returning my phone call.
taking the time.
thinking of me.
loving me.
doing the dishes.
the useful advice.
understanding my perspective.
appreciating me.
cleaning up the garage.
taking the kids to the park.
being you.
You are one of my favourite people to spend an afternoon with; I enjoy our interesting talks.
Your consideration shows up in everything you do.
You always know the right words to say and actions to take to help set anyone at ease.
I admire your excellent taste.
I consider you a dear friend and someone in whom I can confide.
How could I ever get along without you? I wouldn't have half as much fun.
You have outdone yourself. Of course, you always do.
A person of your calibre deserves the best.
This gift and the beautiful thoughts that accompanied it are definitely a tribute to the amazing person you are.
Your beautiful gift reflects your excellent taste and I am so lucky to call you my friend. Every time I look at your gift, I will be touched by your unending thoughtfulness.
You are a role model and a friend. I could never fill your shoes, but am continually inspired by your feats [Oooohhh, so witty] and beautiful spirit.
Gratitude is the heart's memory.
Thank you.
Related
One-Liner Thank You Notes for Best Sisters